Lynn Krawczyk of Smudged Design Studio, author of "the hand-stitched surface, asked me to be a part of her Blog Hop.  How Fun!
She asked me to share one of my favorite stitch, and I thought, "I have so many," that I decided to share the one thing that gets the most "WOW' in my classes when I teach.  Now you might be thinking that it must be an awesome stitch to get a reaction like that, but the truth is, it is not a stitch at all.  It is a tool that will help you with every stitch in Lynn's book "the hand stitched surface" and any other hand stitches you may ever want to try.  This tool provides you with less frustration, and in the end leave you stitching endless projects with joy to boot!  What is this tool? It is securing the thread to a needle, so stitching can be a breeze.
Stitching is fun, but at time it can be frustrating if you are threading your needle more than stitching.  A wonderful way to secure your thread on to the needle, so that you can stitch to your heart's desire is:
Thread needle
leave an inch from one of the ends of the thread
Pierce the needle through the thread about 1 inch from the short end.
I use the tip of my finger to steady the thread, so that it does not move when piercing it.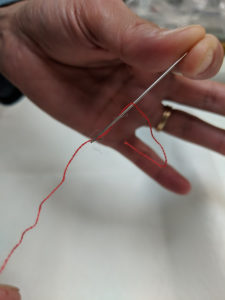 Hold the point of the needle and pull the long end of the thread gently to secure short end unto the needle hole
Don't forget to tie a knot at the end of the long end of the thread.  Have fun stitching!
I spend countless hours stitching scenic art.  The last thing I need is for my needle to become unthreaded in the middle of a stitch.  I was shown this little trick from one of my students, who like me, loved sharing ways to make stitching just a bit easier.

Looking through Lynn's book, I saw many of the stitches that I use in my art.  She provides wonderful samples and easy to understand diagrams with projects to help you create them.  I use these stitches in throughout my art in different variations. (www.sewuniqueart.com)
"Dragonfly Haunt"
"Floating Reef"
I enjoy looking at different stitch books to see the creative ways artist use stitching.  Lynn's book "the hand-stitched surface" which can be found in (Amazon) explores stitching and other creative ideas on fabric and paper.  I, like Lynn also came into fibers through a crazy quilt, so I was drawn to the page in Lynn's book "Doodle Love Lap Quilt" is full of fun ideas for creating patterns on fabric, appliques and stitching.   It has inspired me to create a small lap quilt for my grandson with some of her ideas, and this is just one of many fun projects this fabulous book has to offer.
 for a chance to win a copy of Lynn's book leave a comment here on the blog
I hope you continue to follow the rest of the blog hop this week for more inspiration and additional chances to win a book.
if you missed Lisa's yesterday, I hope you check out her wonderful blog as well.
July 9     Lisa Chin                                       http://www.lisachinartist.com/
July 10   Ana Sumner                                  http://www.sewuniqueart.com/blog/
July 11   Lyric Montgomery Kinard             http://lyrickinard.com/lyric-kinard-blog/
July 12   Libby Williamson                          https://libbywilliamsondesigns.blogspot.com/
July 13   Allison Aller                                   http://alliesinstitches.blogspot.com/
July 14   Lynn Krawczyk                               https://smudgeddesignstudio.com/blog/